A range of cargo bikes
adapted to all professional uses​

Cargo trikes​
available with bare chassis or with 3 types of boxes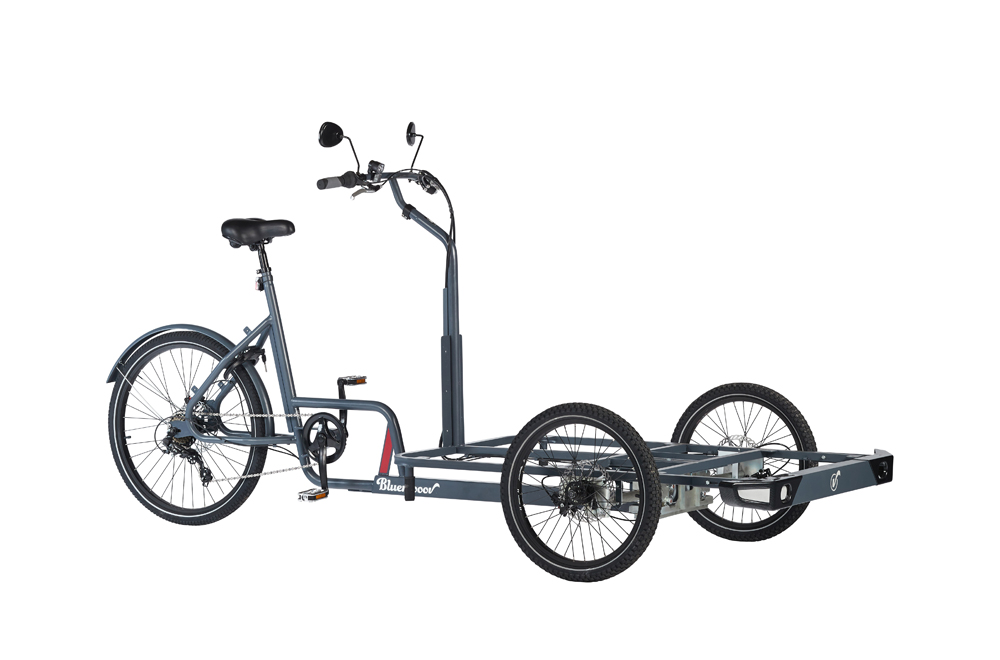 Nobox cargo trike​
A bare chassis for customised layouts, for instance : event and food versions.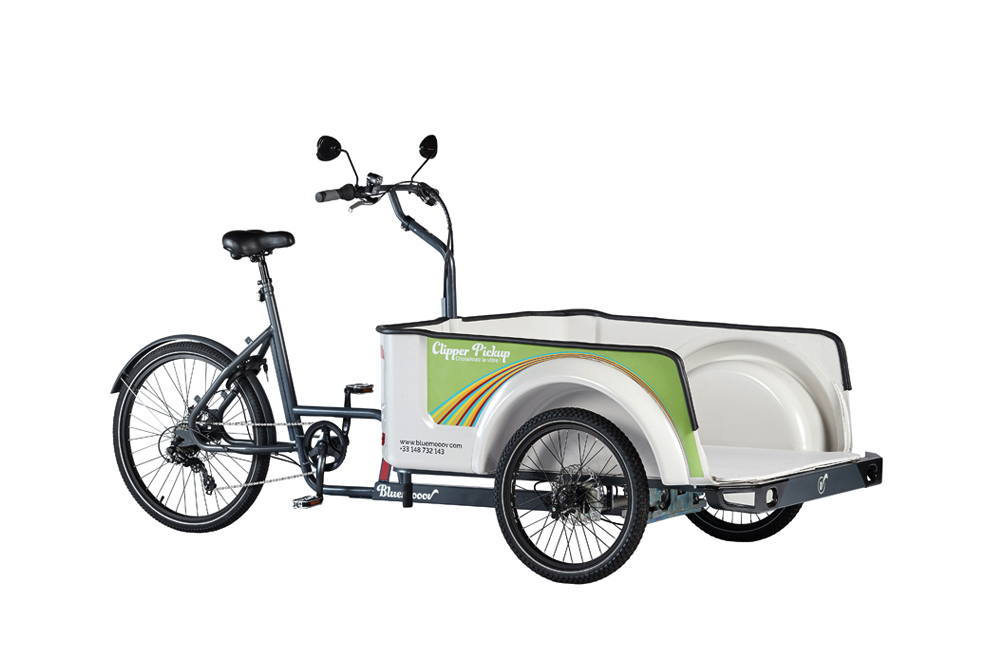 Pickup cargo trike
The box capable of carrying an EPAL European pallet (Clipper size) or half an EPAL pallet (Ketch size). No need to depalletise before leaving for your delivery round or building site.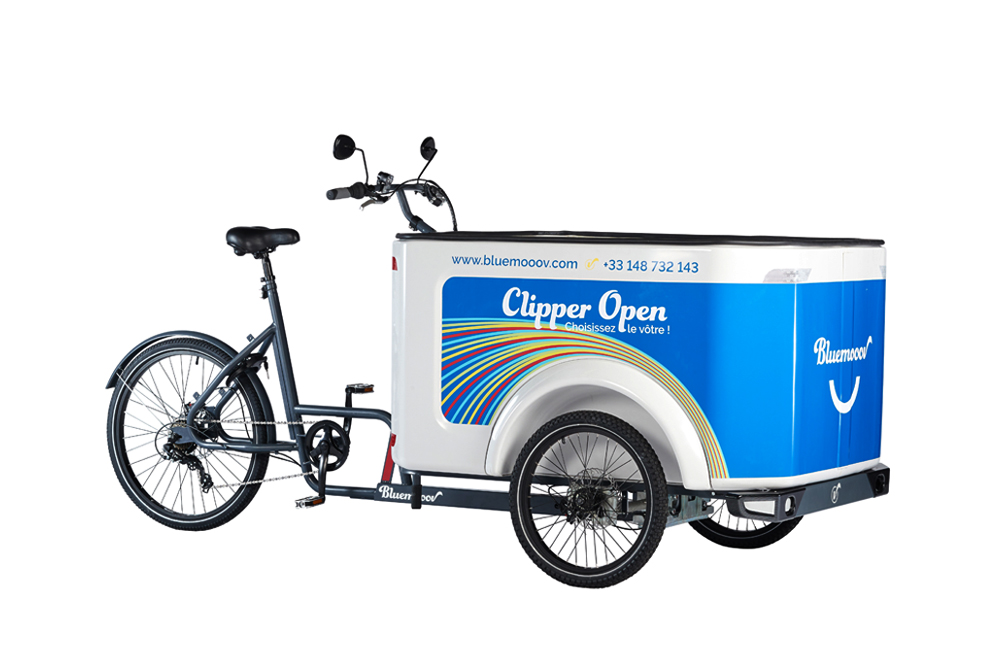 Open cargo trike
Large open box. Ideal for loading and carrying safely a larger number of parcels, hence extending your delivery rounds.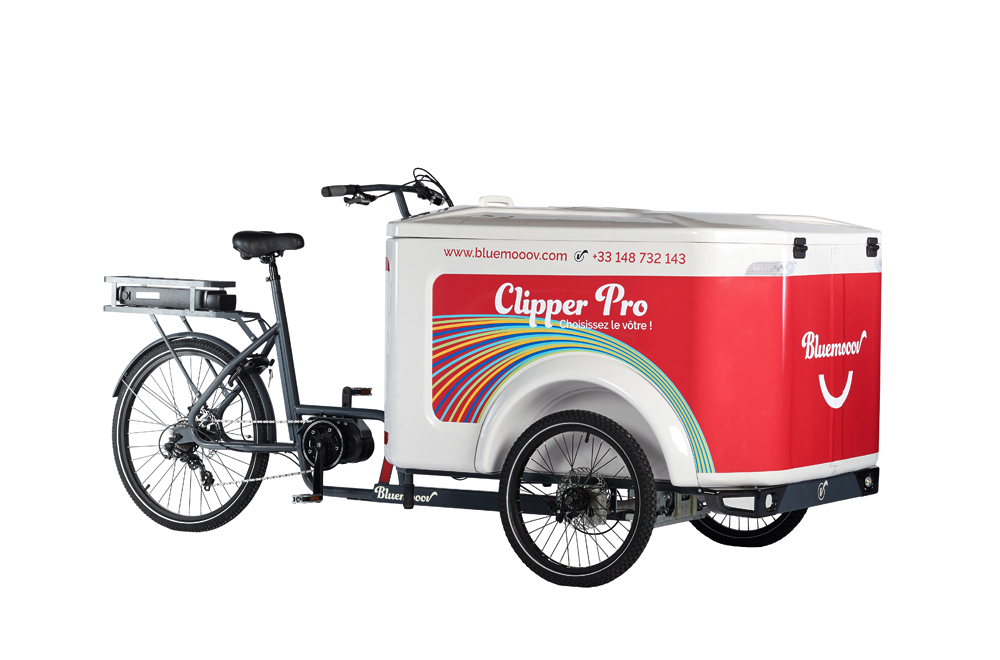 Pro cargo bike
The box that keeps your load safe with its lockable lid. Maximum security, ideal for health professionals, retailers, craftsmen and all delivery companies.

Several drive versions available
for each model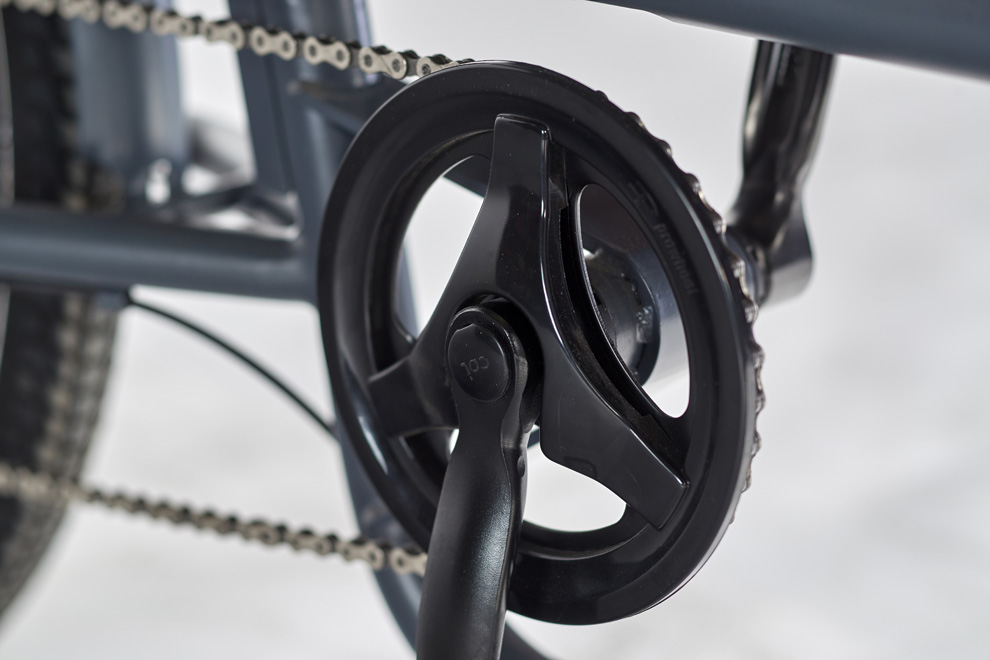 Reinforced chain
Shimano TX derailleur
7-speed freewheel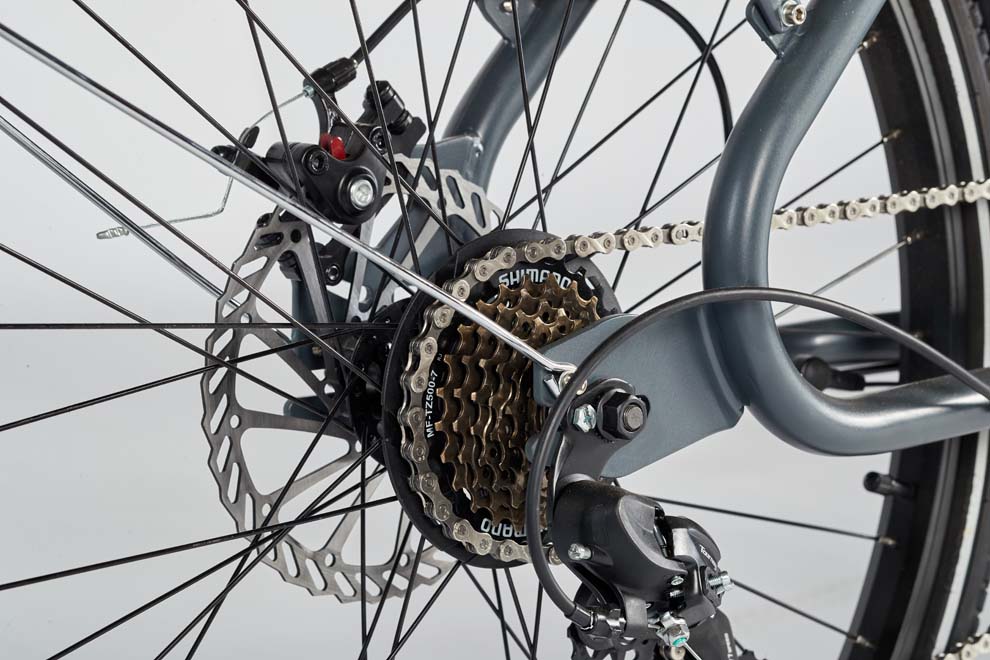 Electrically assisted version
Shimano model

Cargo motor: 250 W, 90 Nm
5 levels of assistance + Walkassist
Digital display
36 V, 15.6 Ah battery
Shimano TX derailleur
7-speed freewheel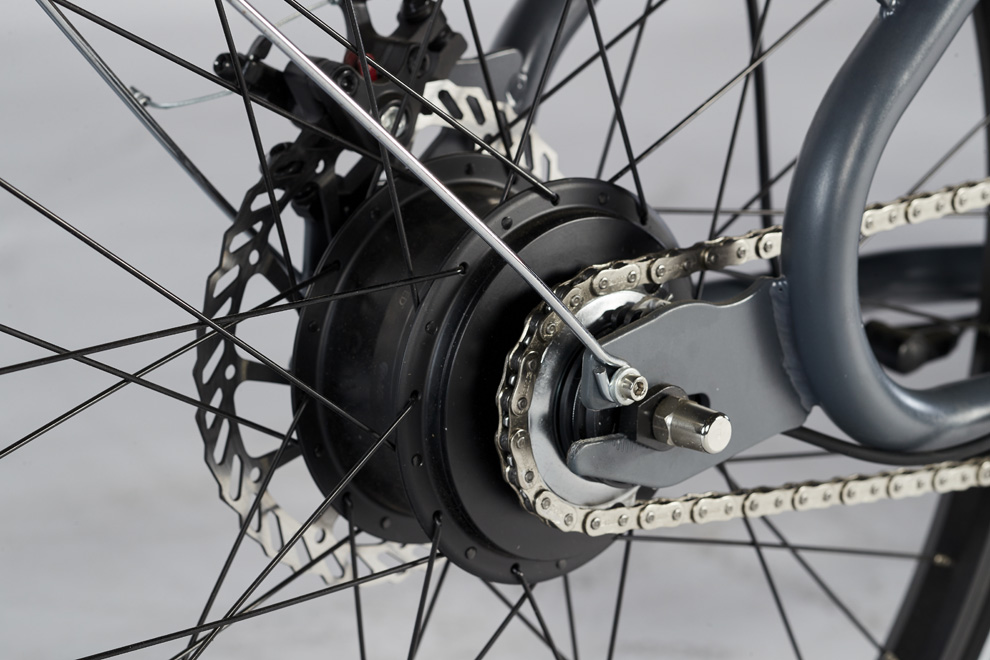 Electrically assisted version​
Enviolo model

Cargo motor: 250 W, 90 Nm
5 levels of assistance + Walkassist
Digital display
36 V, 15.6 Ah battery
Enviolo Cargo N380 gear hub

2 sizes of cargo bike frames,
to meet all requirements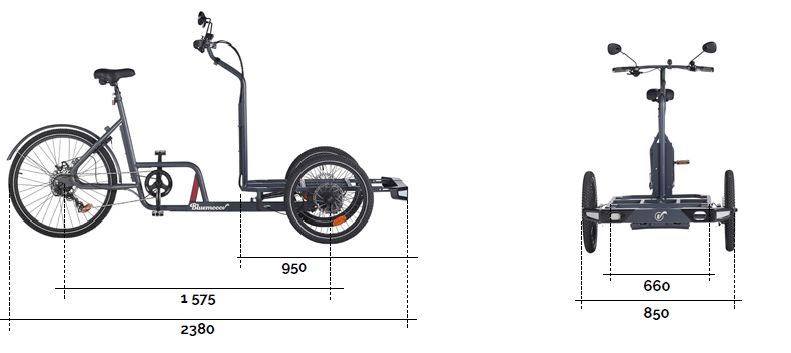 | | | |
| --- | --- | --- |
|   | Mechanical | EAB |
| Ketch | 48 kg | 55 kg |
| Clipper | 52 kg | 62 kg |
Clipper cargo trike range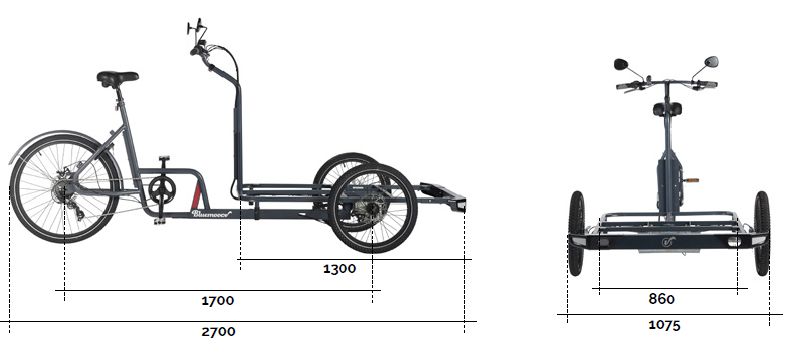 Choose your cargo bike:
20 models to choose from in our online shop or at our dealers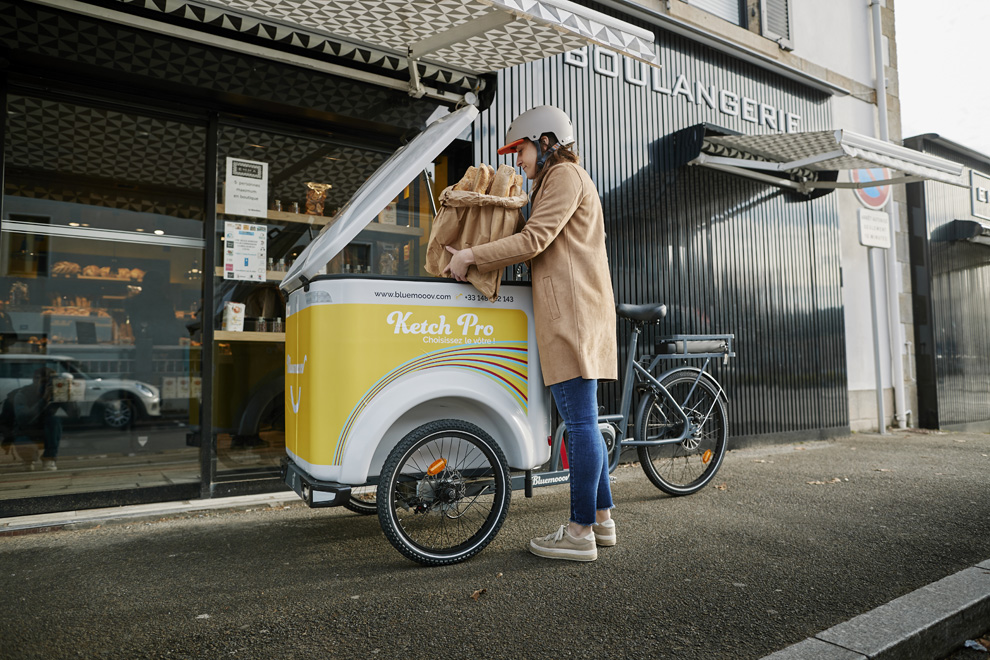 Cargo bikes can be used for a wide range of purposes: delivery of food shopping, orders, parcels, etc. They are even suitable for craftsmen who need to travel to town centres for repairs or maintenance, and for industrialists concerned about their carbon footprint, etc.

Bluemooov, a new French player in the cycle sector, designs and manufactures a wide range of three-wheeled cargo bikes designed for all professional uses: robust, reliable and with a high carrying capacity. In addition, Bluemooov products come with services designed for professionals: Bluemooov cargo trikes can be customised with your colours. insured, locally maintained, etc.
For example, the electrically assisted Ketch Pro model, which offers a closed box of 480 litres, is available from €5,949.00 excluding VAT. It has a payload of up to 150 kg and a very large surface area (1.2m²) available for your commercial display.
Discover all the products on this site or in our online shop.

Custom flocking:
to brand your cargo bike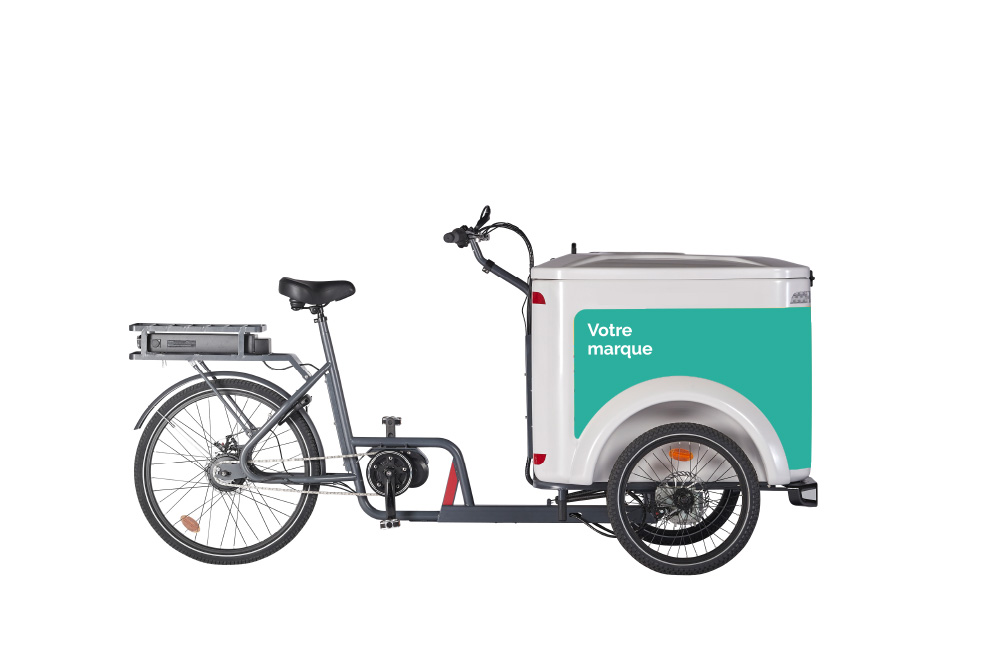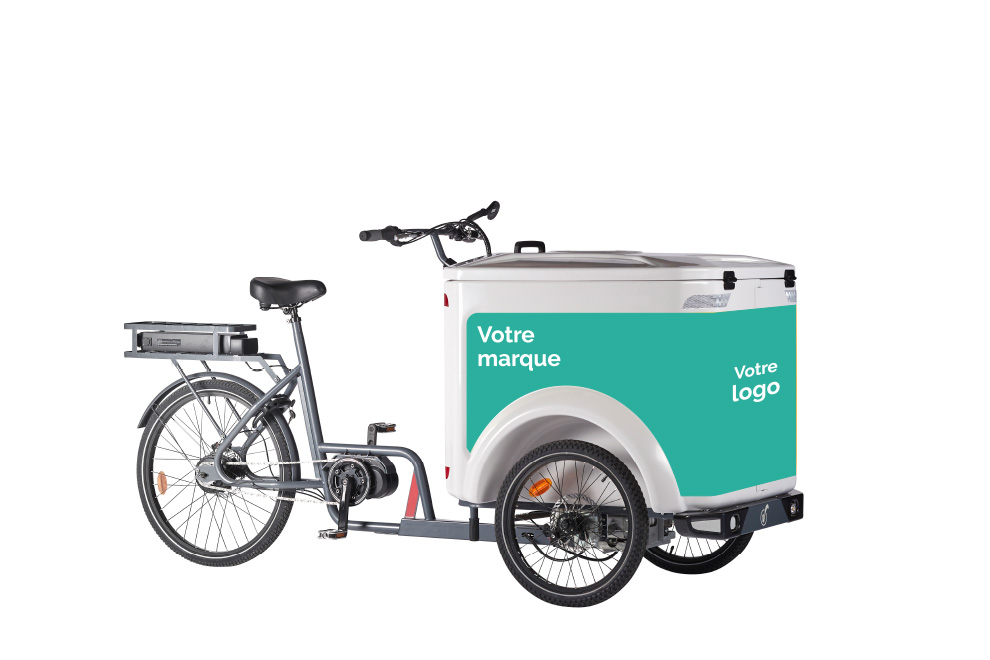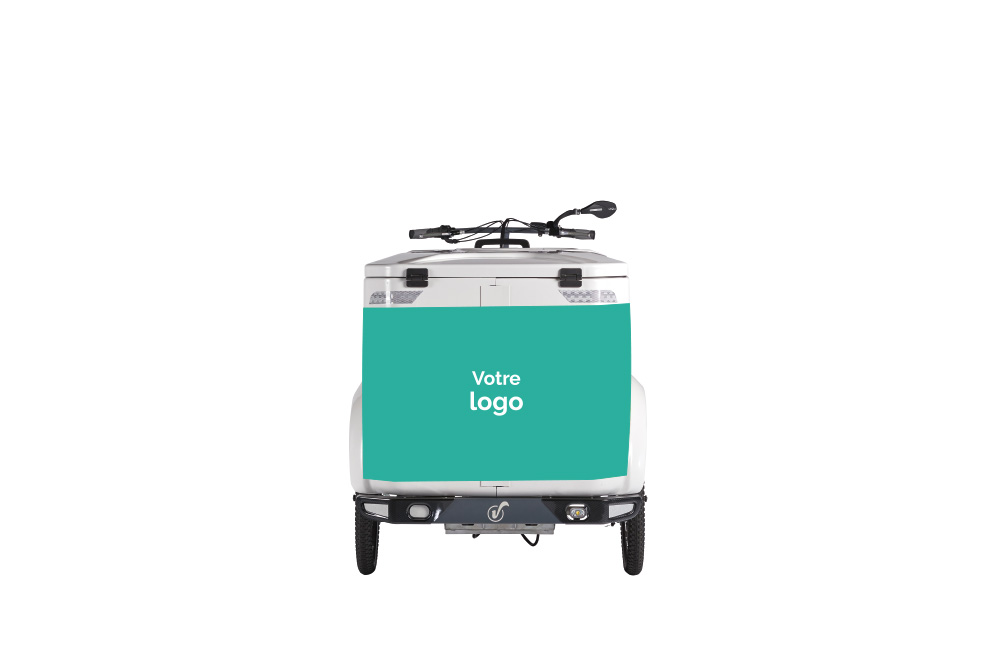 All Bluemooov cargo trikes can be customised with your colours. The green areas are intended for your personalised covering.
Advertising space
Ketch Pro or Ketch Open: 1.2 m2
Clipper Pro or Clipper Open: 1.5 m2
Should you need tailor made boxes that perfectly meet the needs of your business?
We can organise a design-thinking session with your teams to define the specifications of your specific boxes and then produce them.
Examples of subjects dealt with: optimal size of the box, structuring of its interior space, driver protection, specific equipment: cooling unit, UV disinfection…

Technical features common
to all models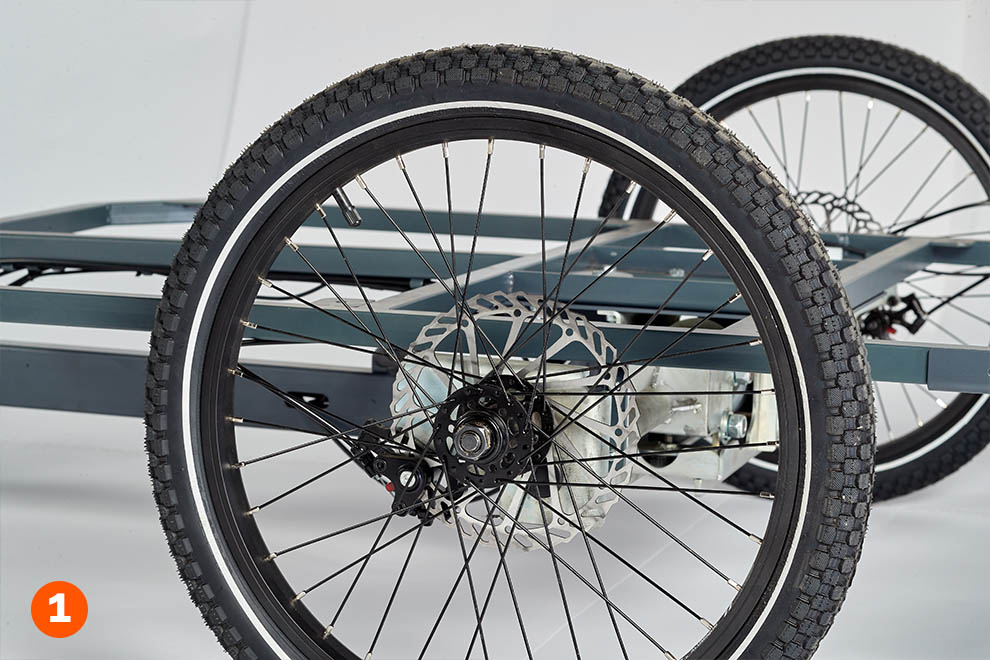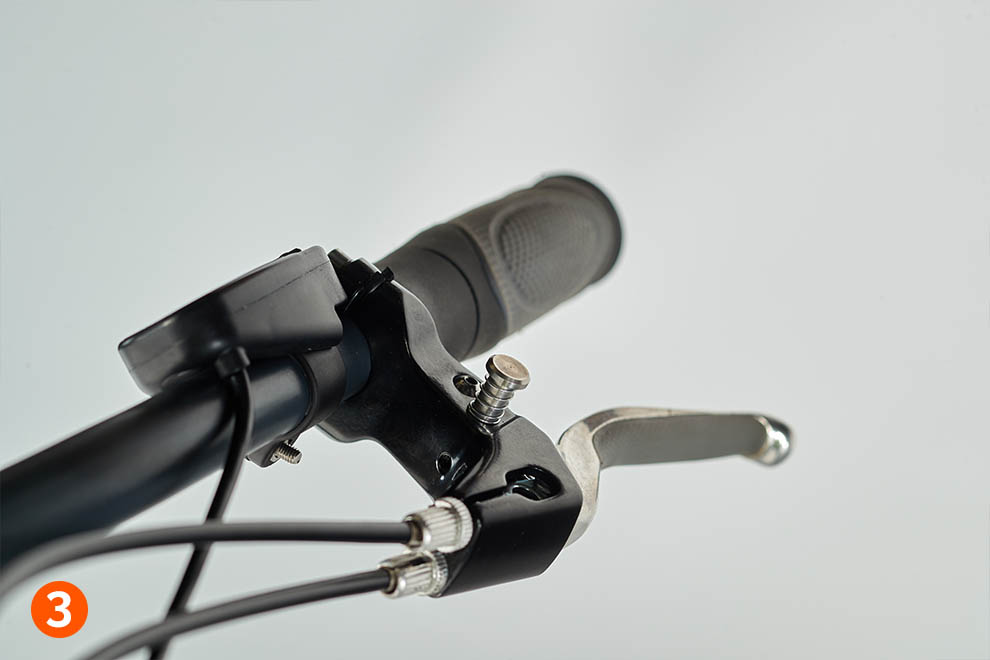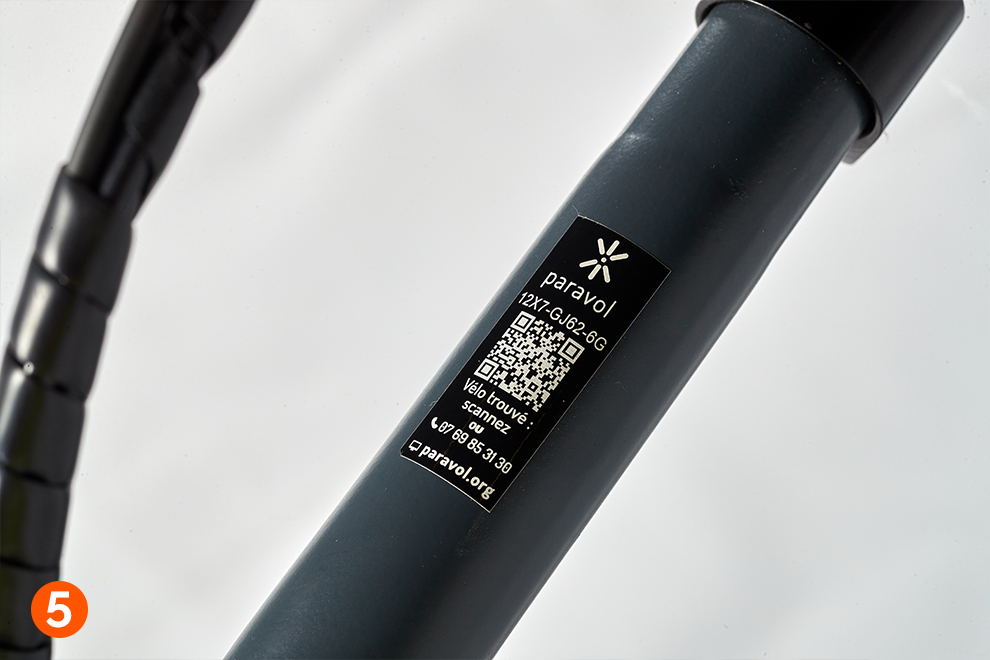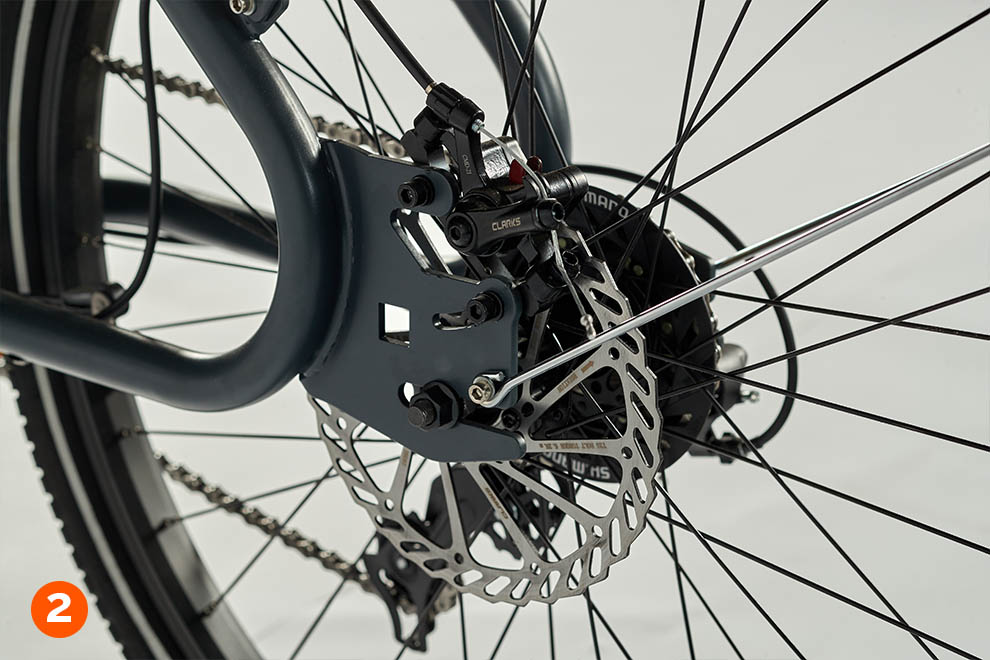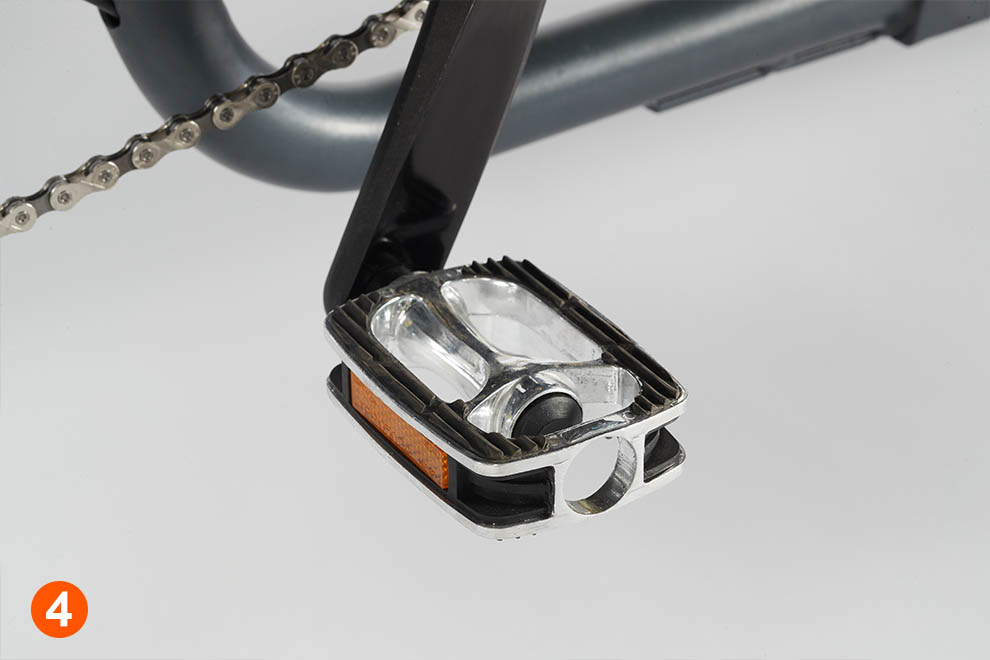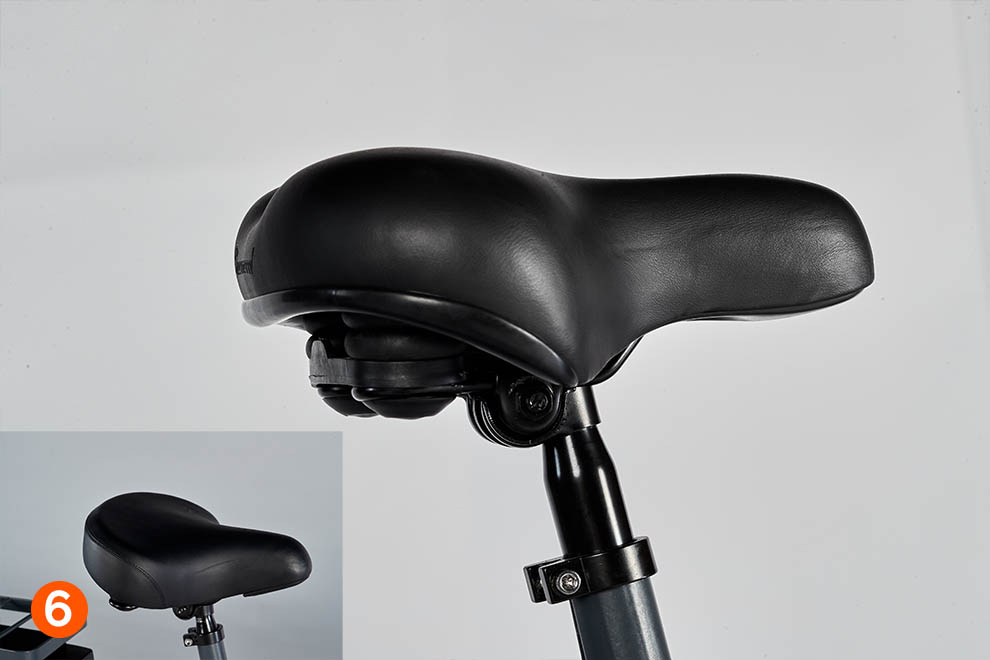 Reliable and flexible steel frame, anti-puncture tires with reflective side stripes


Front and rear disc brakes

Front brakes with double handle and parking position


Non-slip pedals


Paravol engraving (anti-theft technology)


Comfort gel saddle or optional extra broad saddle

5 reasons to choose
a Bluemooov cargo bike

A Bluemooov cargotrike has good lighting and an ergonomically high driving position that provides excellent visibility in traffic. With its size, it naturally prompts motorists to make room for it on the road and discourages thieves!

A Bluemooov cargotrike is designed and manufactured to meet the specific requirements of heavy use and has excellent ergonomics to ensure longevity and low maintenance to optimise your operating costs.

A Bluemooov cargotrike can carry more than 950 litres for 150 kilograms of load. This is one of the largest carrying capacities on the market. Whether it is mechanical or electrically assisted, it has been designed to easily pull these loads.

A Bluemooov cargotrike is easy to handle thanks to our exclusive suspension/compensation system (registered design). With its parking disc brake, it can be parked wherever you want.

A Bluemooov cargotrike is easy to use by everyone, even non-cyclists, because it remains stable in traffic as well as when stopped or parked

Optional services
available for all Bluemooov cargo bikes

20 models of cargotrikes, to meet your needs, large spaces to display your brand… We can even create your own customised boxes
Our cargotrikes can be delivered, maintained or repaired anywhere in France (under development for other European countries), thanks to our partners and often even in situ (home or business). We can even offer subscriptions for carefree maintenance of our cargotrikes, at the place of your choice.
*Depending on the geographical availability of the service

In order to use your cargotrikes with complete peace of mind, we have developed a simple and effective insurance offer*. As soon as it is delivered and throughout its use, your cargotrike will be covered at least in case of accident or theft. All you have to do is choose the options that best suit your situation (value of professional tools, etc.).
* The insurance option is subject to acceptance by the insurance company and depends on the geographical availability of the service
Stability, manoeuvrability, carrying capacity… the cargo bike changes your life

3 wheels that change everything
What are the main obstacles to cycling in the city? For many, it's safety. Bluemooov answers this problem.
"Three wheels, that changes everything" is not only a slogan in terms of safety:
A Bluemooov three-wheeled cargo bike offers you stability and safety thanks to its suspended chassis and the greater distance left by motorists when overtaking.

Safety also means fighting against theft. For your peace of mind, all our products are sold with an anti-theft frame, a QR code marking for identification (* subject to availability of the service).
"Cargo Bike News": Subscribe to our newsletter!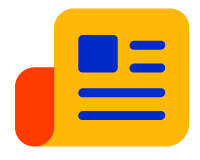 Keep up to date with the latest news on cargo bikes, cargo trikes in general and Bluemooov in particular!
Give us your email address (which we will not pass on to anyone) and receive news directly in your mailbox.
We will never send more than two mails per month, it's our commitment!
Check our cargo trike catalogue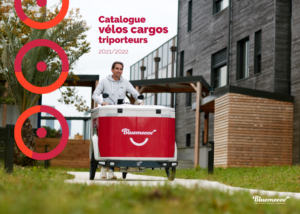 Should you need more information and photos
on our range of cargo trikes?
Pictures of the products in action,
Equipment details
Presentation of the additional services available
All technical characteristics,
Detailed lists of equipment
Examples of use
Click here to download it.
Contact us

Would you like to contact us directly to find out about our delivery terms, the list of our distributors and our payment terms for grouped orders? We can answer your questions by phone at +33 184 771 350 or by e-mail at smile@bluemooov.com. You can also leave us your contact details to arrange a meeting.

Maison de la Technopole
6 rue Léonard de Vinci
Changé
53001 LAVAL Cedex
France
+33 184 771 350
smile@bluemooov.com